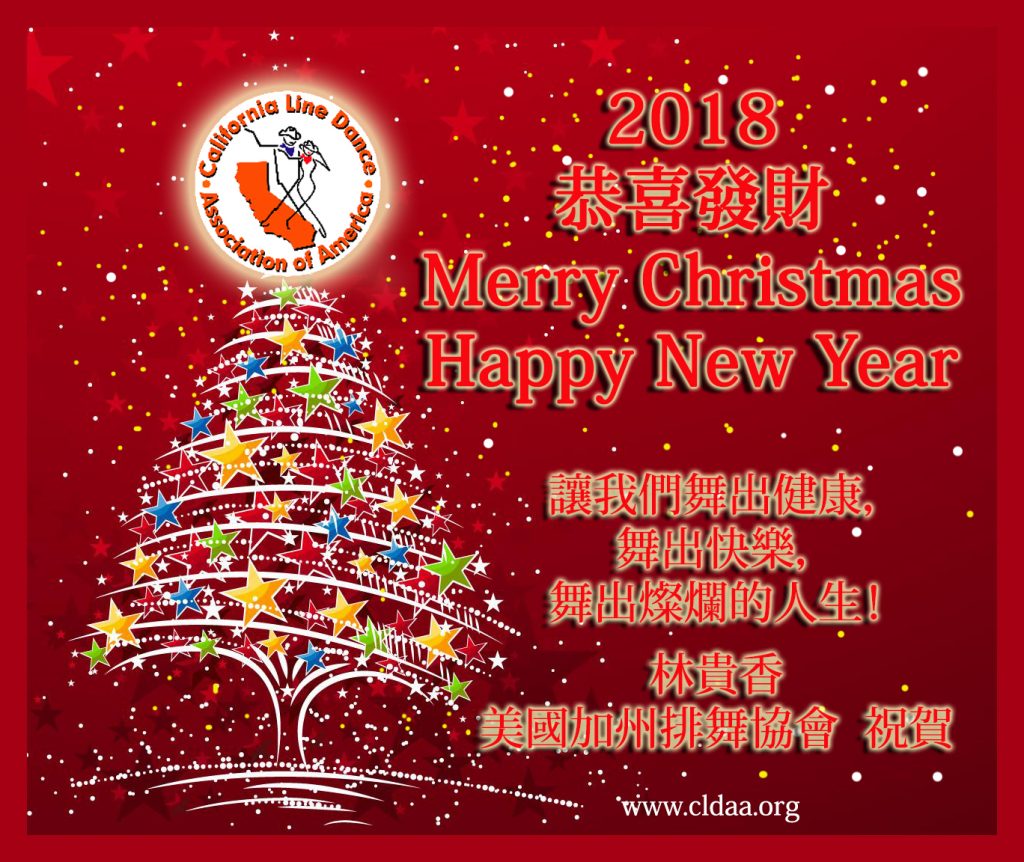 CLDAA wishes all of you a happy, healthy and a prosperous year!
Hello CLDAA members,
Hope 2018 is off to a great start. We're all looking forward to another wonderful year with all of you—dancing for health, happiness and a colorful life. Below are a few important announcements and updates for this year…
It is our 14th anniversary this year and we're excited to announce that CLDAA has successfully distributed new photo ID cards to all active members in 22 locations. This photo ID card signifies you as a part of the largest Chinese American line dance institution in the Bay Area. We hope you all feel proud wearing it! Starting this year, we request all members to wear photo ID card when attending class. It's to help our staff identify you as our active member. We thank you for your $10 donation if you do not have your photo ID card with you during the class. If you misplaced your photo ID card, you can request a replacement card for a $20 processing fee.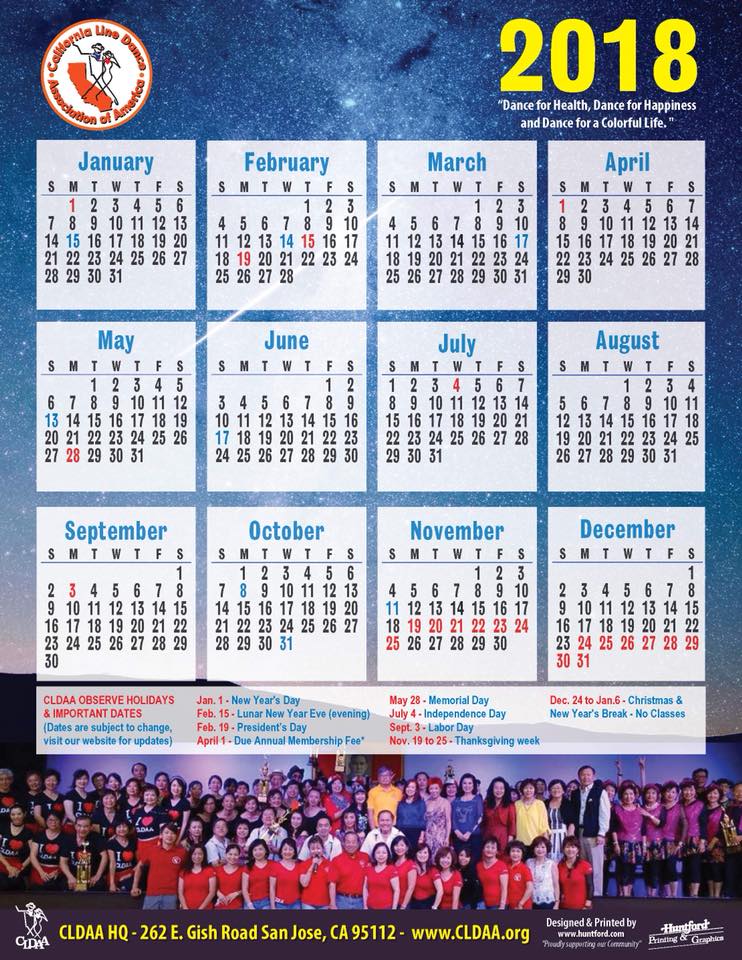 2018 Fees and Charges:
● $255.00 – CLDAA New Membership fee (with 1 T-shirt)
● $240.00 – CLDAA Membership renewal fee due on April 1
● $20.00 – CLDAA Photo Membership card replacement service charge (effective February 1)
● $40.00 – CLDAA Photo retake by member's request.
● $2,000.00 – CLDAA Lifetime Membership fee
● $3,000.00 – CLDAA Lifetime Membership fee (with spouse only)
● $10.00 – Drop In fee per class (Includes failure to present photo Membership card)
● $35.00 – Bounced check charge
● $15.00 – CLDAA Polo Shirt
● $15.00 – I Love CLDAA T-shirt
● $5.00 – per CD, special promotion: Buy 2, get 1 free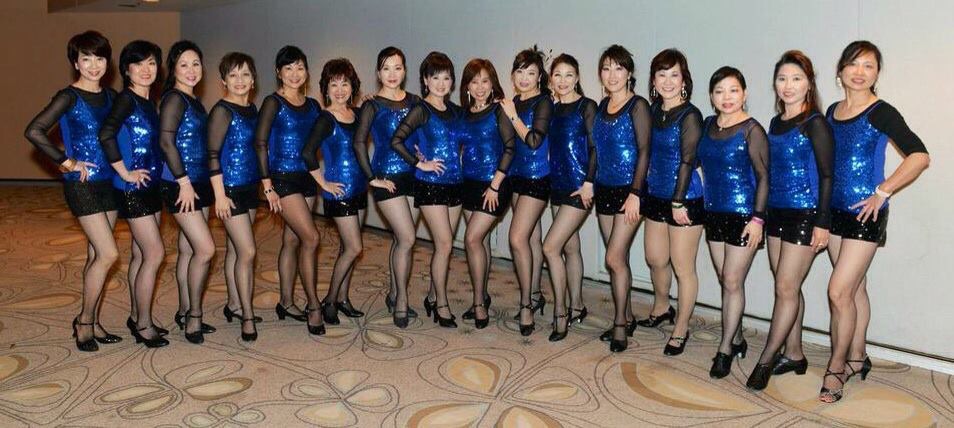 Annual membership:
CLDAA calendar year is approaching in April. As a friendly reminder that your annual membership fee is due and payable on April 1, 2018. It covers from April 1, 2018 to March 31, 2019. Please make your check payable to CLDAA in the amount of $255.00 with polo shirt or T-shirt for the new member. $240 for renewal members. Please indicate your membership number, first and last name on your check, and send it to:
CLDAA
262 E. Gish Road
San Jose, CA 95112
Donations:
As a non-profit organization, CLDAA is always incredibly grateful and appreciative of kind donations. Thanks in advance for any financial contributions and/or company matching funds.
California Line Dance Association of America is a 501 (c) 3 non-profit organization and all cash donation are tax-deductible. We believe that with your support, CLDAA will be able to grow and serve the community broadly. Donors will be presented with a letter of thanks as well as an acknowledgement certificate for your tax-deductible donation. Also, any donor that donates over $500 in cash will receive a sponsor status which we will recognize on the website. A Federal Tax ID number is available upon request. Thank you for your consideration. Your support is greatly appreciated. Thanks!
CLDAA
Thank CLDAA members for the participation in the 2015 Line Dance Competition held on 6/28, Sunday at CCC in Milpitas. We appreciate your time and efforts in your preparation for this event. I understand it took about three months. Thank Madam Fuh, Annie Yi, Carol Ma, Mei Wuu and Jason Chiu for their hard work as our competition judges. Thank our CLDAA coaches, assistant coaches and staff for their passion and dedication, without their strong teamwork this event would not have been possible. I also would like to thank CCC director Wu, Tina and April for their support. I would like to thank all of our event photographers, Luther, Mike, Ben, Nina, Dr. Ray, for their outstanding work. Here goes a special thank to our Overseas Commissioners, Wei Wang, Song Chen and Amy Jong for coming to show their support. In conclusion, I would like to thank STUF (Shi Tai United Fund) for their grant contribution.         More Pictures.
The California Line Dance Association of America (CLDAA) was founded in 2004 by Kico Lin. While only officially established and recognized by the Federal and State Entities in April 2004, CLDAA founding members have been dancing to promote a healthy lifestyle for many years. In fact, Kico Lin and other founding members were involved in attaining a world record in the Guinness Book of World Records in 2003 for the greatest number of line dancers in one venue. In Taipei, Taiwan on October 18 2003, 6,875 individuals gathered to perform a single line dance to break the world record. CLDAA's goal is to break another world record here in North America.
To date, CLDAA has established line dancing classes throughout the San Francisco Bay Area, on weeknight and weekends, for the ease and convenience of its embers. CLDAA believes that line dancing is a fun and easy way to exercise, as there is no need for a partner and is appropriate for all ages. CLDAA board members, whom are all dance teachers and avid students, serve the community with passion through action. Our slogan:
"Dance for Health, Dance for Happiness and Dance for a Colorful Life.
CLDAA will observe the following holidays:
New Year's Day Friday, January 1
Chinese New Year Eve  (Evening)
President's Day
Memorial Day
Independence Day July 4
Labor Day Monday
*Thanksgiving week
*Christmas and New Year 2 weeks