各位貴賓,各位女士,各位先生,大家好!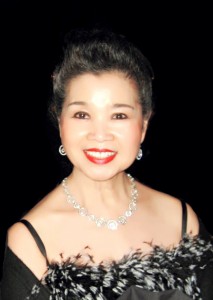 我在此謹代表美國加州排舞協會全體會員以最誠摯的心意歡迎各位,更感謝各位在百忙之中抽空撥冗來參加美國加州排舞協會的十週年慶祝晚會。
回顧十年前,我個人感到非常的驕傲,我們從僅僅六位創始會員,發展到今天已經有三千多位學員。透過每星期二十一堂課,每年我們服務的學員超達二十二多萬人次。為何我們的成長會如此地迅速呢?我相信是因為美國加州排舞協會所帶領的方向是人人所嚮往的,我們是一個屬於溫馨,祥和,互敬又充滿關愛的大家庭:我們透過跳排舞來幫助大家建立身心靈的健康。每一位學員經過一段持恆舞動的訓練之後,個個姿態美妙,心情愉快,信心十足。
我們這十年來有許多學員體會到義工的益處,它不但能助人,樂己更能散佈愛心,這種內心最高的喜悅,使她們不斷透過所學的舞蹈為灣區無數的社團做慈善及慶祝義演
我在此藉這個機會要感謝所有支持我們的朋友,過去十年中,因為您,有形的慷慨解囊和無形的精神支持,使美國加州排舞協會能夠順利地完成我們的使命。再次懇請,希望今後您能夠繼續為美國加州排舞協會加油支持,讓我們能夠擴大服務更多的社區,幫助更多需要被幫助的人。
此刻,我也要感謝我們所有的學員,謝謝您十年來與我們同在,因為有你才有我們的存在,你們是美國加州排舞協會的原動力!讓我們大家一起共舞一生!
最後,我要感謝軸心團隊和所有的義工,由於你們奉獻出時間,精神,熱心和愛心,才會使得今晚的晚會圓滿成功,讓我真心的感謝大家也祝福大家!
Message from President
Good evening Ambassador and Madam Fuh, all honorable Mayors, vice mayor, county supervisors, city council members, Taiwan government officials, overseas commissioners, all distinguished guests, as well as CLDAA members, families and friends.
On behalf of the members of CLDAA, I would like to express my deepest gratitude to all of you for taking the time to celebrate with us tonight. Welcome!
As you all know, we are here tonight to celebrate the 10th anniversary of CLDAA. Reflecting back, I'm very proud to share that we have came a long way from being just group of 6 co-founders to now more than 3,000 members strong. How did we get to this point? I humbly believe, it's because CLDAA stands for the right attributes — through line dancing, we encourage health, happiness, confidence, teamwork, respect, care and love. And, we are serving more than 220,000 people yearly through 21 classes per week throughout the Bay Area. As a result, it's not simply about line dancing. It's become a method of preventative care and maintenance both mentally and physically. In addition, many have enjoyed the sense of community and the benefits of volunteering together to give back to others.
Tonight, I would like to take this opportunity to thank each and every one of you for your long-term support. Without your support, CLDAA would not have been able to accomplish what we have accomplished. Therefore, please, I would like to ask for your continued support which will enable CLDAA to achieve even more and expand our reach to even more communities.
I would like to especially thank all of our members for your support. Thank you for trusting us and staying with us for the past ten years. It is because of you we are motivated. And, it is because of you, we are committed. So, please let us continue to dance for our health, our happiness and our colorful life.
Lastly, I would like to thank all of our volunteers…this is a big celebration and without your time, efforts and passion, this event would not have been possible. Thank you all sincerely.